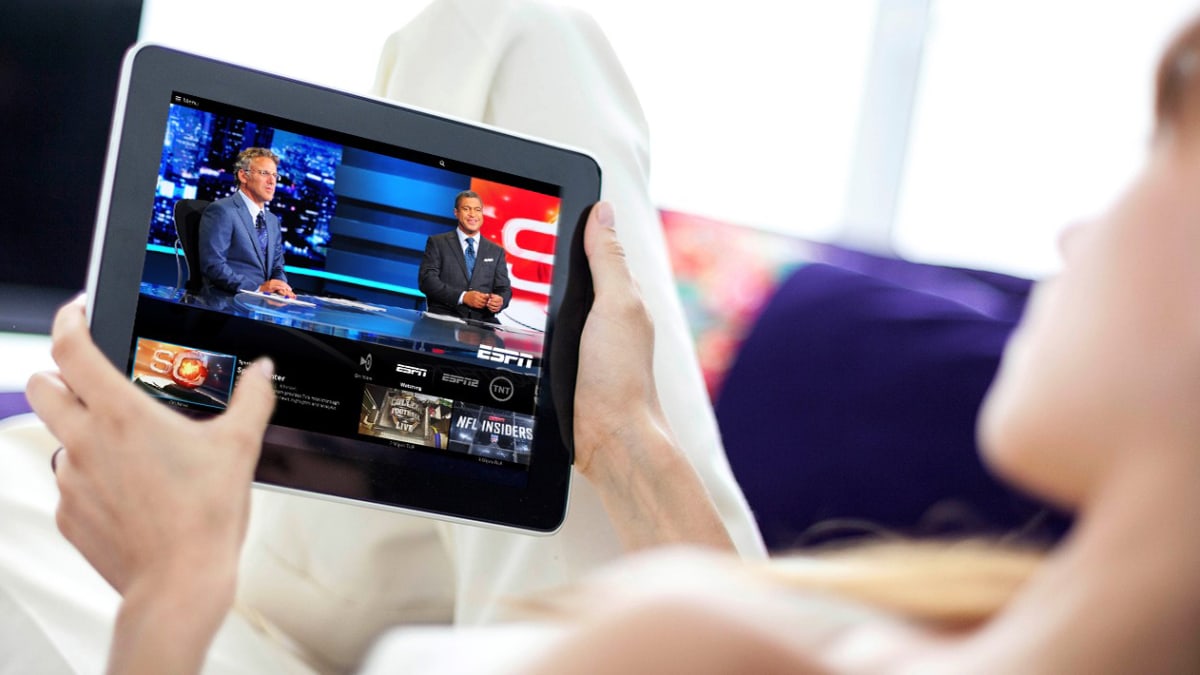 With new cord-cutting services cropping up each year, it's clear that customers are serious about cutting cable companies out of their lives. Live TV streaming services—like Sling TV and its competitors—replace potentially year-long cable contracts with relatively low-cost monthly subscriptions that can be canceled at any time. In some cases, users even have the option to customize the flow of content by adding and subtracting channels.
Should you decide to ditch traditional cable, Sling TV is just one of several of such cord-cutting services vying for your eyes and ears. And, thanks in no small part to it being one of the first of these now-prolific platforms, it's become one of the most popular of the pack.
But how exactly does Sling TV work, and more importantly, should you buy into the hype? Let's get into it.
How does Sling TV work?
Sling TV starts with a subscription, of which there are three base plans: Sling Orange, Sling Blue, and Sling Orange & Blue.
Each Sling TV subscription package comes with a different set of channels and varies in price. In a way, they're sort of like Sling TV starter packs. Here's a look at what you'll get with each.
Keep in mind that channels and pricing are subject to change, so depending on when you're reading this, the lineups and costs may be different.
1. Sling Orange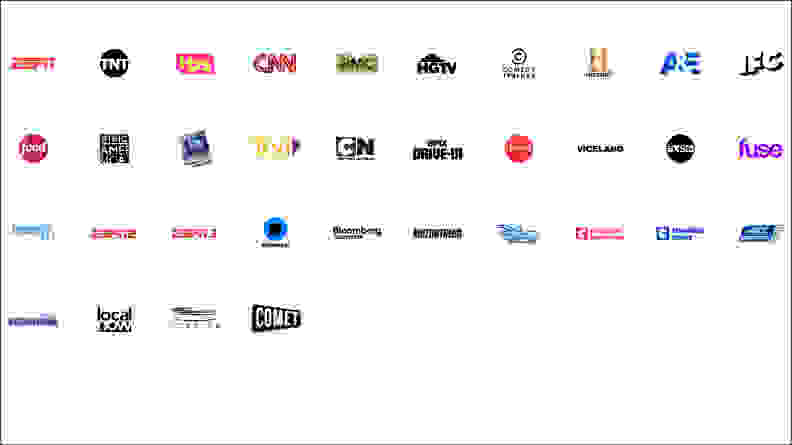 The Sling Orange service starts you off with 30+ channels at $25 per month.
Total number of channels: 34
Monthly cost: $25
Total simultaneous streams allowed: 1
Due to its low cost and relatively modest amount of programming, it wouldn't be wrong to call Sling Orange "entry-level." That said, there are some important details to consider before choosing Sling Orange over Sling Blue, particularly because both services start at the same price.
Sling Orange features fewer channels than Sling Blue, but it also includes channels that Sling Blue does not. Disney Channel, ESPN, ESPN 2, and Freeform are among the channels included in Sling Orange but not Sling Blue. Essentially, if you're a fan of Disney programming or the Disney-owned ESPN network, you'll probably want to subscribe to Sling Orange over Sling Blue.
In addition, Sling Orange allows for only one stream at a time, whether you're watching live or recording. This means that if you're hoping to share your Sling account across multiple devices or record certain shows while watching others, you'll want to opt for Sling Blue or Sling Orange & Blue.
Yes, Sling TV offers DVR—I'll get into that soon.
2. Sling Blue
The Sling Blue service starts you off with 40+ channels and also costs $25 per month, but several high-profile channels that are included with Sling Orange are not included with Sling Blue.
Total number of channels: 49
Monthly cost: $25
Total simultaneous streams allowed: 3
Like Sling Orange, Sling Blue is priced at $25, but Blue offers significantly more channels than Orange does. At first glance, you might think that Blue is obviously a no-brainer, but keep in mind that Sling Blue doesn't include Disney channels—including Freeform and ESPN.
That said, you do get a host of channels that don't come with Sling Orange, including NBC (as well as NBC-owned channels), Fox, Fox Sports, and NFL Network. Plus, with Sling Blue, you can access three channels at once, whether you're recording shows or using the same account across more than one device.
3. Sling Orange & Blue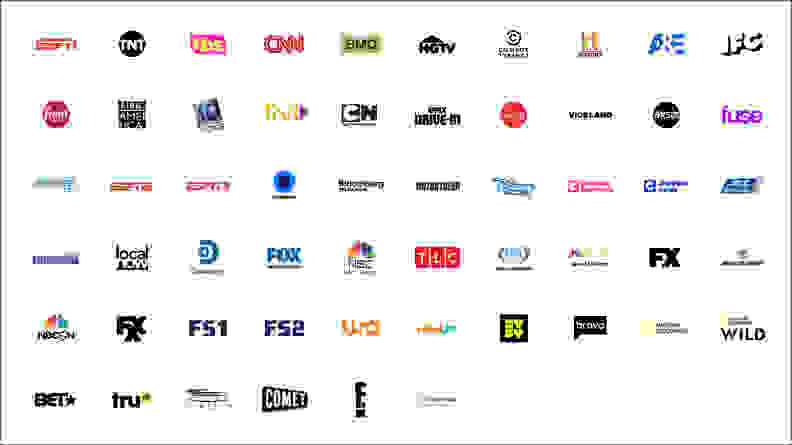 The Sling Orange & Blue service is the best of both worlds—but it costs $40 per month.
Total number of channels:
Monthly cost: $40
Total simultaneous streams allowed: 4
The best of both worlds is the Sling Orange & Blue plan, which gives you everything outlined above, plus up to four simultaneous streams.
To encourage the up-sell, Sling is offering the Orange & Blue plan at just $40, meaning it's kind of like getting either Orange or Blue for just $15. If you can't live without the programming that each of the two individual base plans respectively exclude, the Orange & Blue plan is your best bet.
Can I add channels to one of Sling TV's base plans?
You sure can—but it'll cost ya.
Once you've selected a base plan of Sling Orange and/or Blue, there are several add-on channels (or channel packages) that you can tack-on, the costs of which are folded into your monthly bill.
Most of these extras are a small grouping of channels—like "Comedy Extra," "Kids Extra," "News Extra," "Best of Spanish TV," etc.—that hover around the $5-to-$8-per-month price range. However, there are also premium channels—like Starz and Showtime—that reach upwards of $10 per month.
What's more, NBA fans also have the option of adding an NBA League Pass or an NBA Team Pass to their monthly service.
Some of the above might not age well, of course—Sling is constantly adding and subtracting channel extras. Head over to Sling's official website for a full, up-to-date list of Sling TV channel add-ons.
What devices support Sling TV?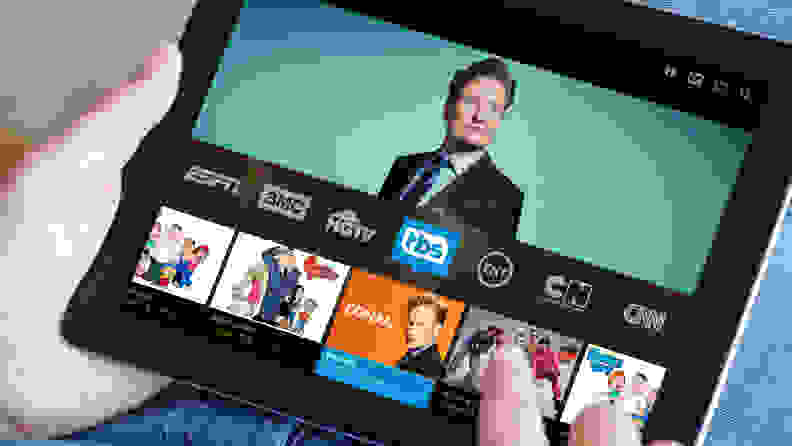 Sling TV is available on a wide range of devices, from tablets to smart TVs.
There are several ways to access Sling TV, and the list continues to grow.
Folks with a relatively new TV will probably be able to add the Sling TV app to their TV's built-in smart platform. Others might prefer (or need) to access Sling from their Apple TV, Roku, or Xbox.
And then there are the viewers who'll find themselves watching Sling TV on their smartphone, computer, or tablet. The world, as they say, is your streaming TV oyster.
Here's a quick smattering of Sling TV's supported devices. Bear in mind that this information is subject to change, so check-in with Sling's official website for a full list of devices that support Sling TV.
Smart TVs that support Sling TV:
• LG (must have webOS 3.0 or higher)
• Samsung (full list of Samsung TVs that support Sling TV)
• Hisense (Roku TV)
• TCL (Roku TV)
• Sony Bravia (via Android TV)
• Sharp Aquos (via Android TV)
• Element Amazon Fire TV
Streaming devices that support Sling TV:
• Apple TV (4th Generation, tvOS 10.0 and higher)
• Roku streaming devices
• Amazon Fire streaming devices
Mobile devices that support Sling TV:
• iPhone/iPad (iOS 11 and higher)
• Android (Android 4.4 and higher)
• Chrome (Mac or Windows OS)
• Amazon Fire (with Android 4.4.2 and higher)
Gaming consoles that support Sling TV:
• Xbox One
• Xbox One S
• Xbox One X
If you need help shopping for a streaming device, we've put together a round-up of the best streaming devices you can buy, and we update it frequently.
It's worth mentioning, however, that Sling occasionally offers discounted hardware (like Roku streaming devices) with prepaid Sling TV subscriptions—usually one to three months of the service. Head to Sling's website for a list of current Sling TV deals.
Does Sling TV include a DVR?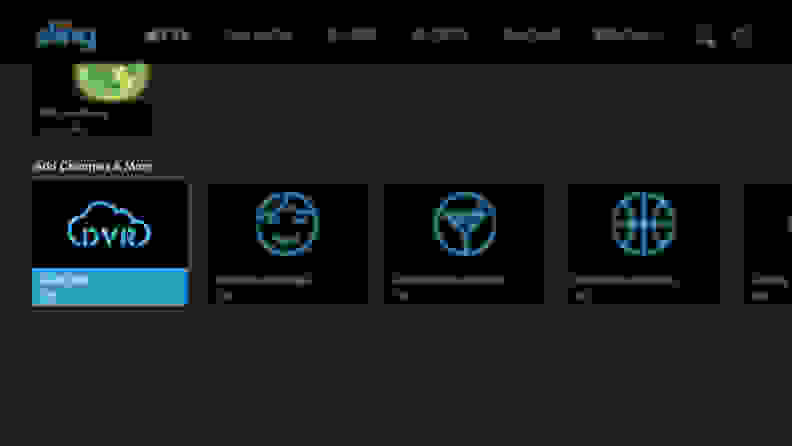 Sling TV's Cloud DVR service is available to users for a minor monthly fee.
Yes, it does!
When we wrote our initial hands-on review of Sling TV, the company's optional Cloud DVR feature had just made its debut. Since then, the Sling TV experience has only gotten better, as changes to the UI and additional features have gone a long way in ironing out some of the platform's early issues.
The DVR service is not without some restrictions, however, and it will cost you a bit extra. Here's Sling's DVR service at a glance:
• Cost: $5 extra/month (on top of base plan)
• Hours allotted: 50
• Ads: Can be skipped
• Recordings do not expire
• Other restrictions: Cannot record programming from Disney-owned channels, including Freeform, Disney Channel, and the ESPN suite
Unfortunately, while your Cloud DVR recordings on Sling TV last as long as you want, there's a 50-hour recording limit. Additionally, content airing on any Disney-owned channels is ineligible for recording on the Sling platform.
If your favorite show airs on a Disney-affiliated channel, or if you're at all concerned about bumping into that 50-hour ceiling, you might want to pick another streaming platform to do your DVR bidding. Lucky for you, there are plenty of cord-cutting services that offer DVR functionality.
Can I try Sling TV for free?
Like most streaming platforms, Sling TV is confident enough in its services that it sometimes offers first-time users a free trial period, typically for a week. The only catch is that you'll need to cancel your account before the trial period ends if you're not satisfied with the service and don't want to be automatically charged for a month of access.
In addition, these free trial offers come and go, so they're not always on the table. Sometimes, in lieu of free trial offers, Sling will instead knock down the price of one its base plans for the first month of service.
If you're interested in giving the service a spin, check the company's website to see if there are any current Sling TV free trial offers.
The product experts at Reviewed have all your shopping needs covered. Follow Reviewed on Facebook, Twitter, and Instagram for the latest, deals, product reviews, and more.
Prices are accurate at the time this article was published, but may change over time.