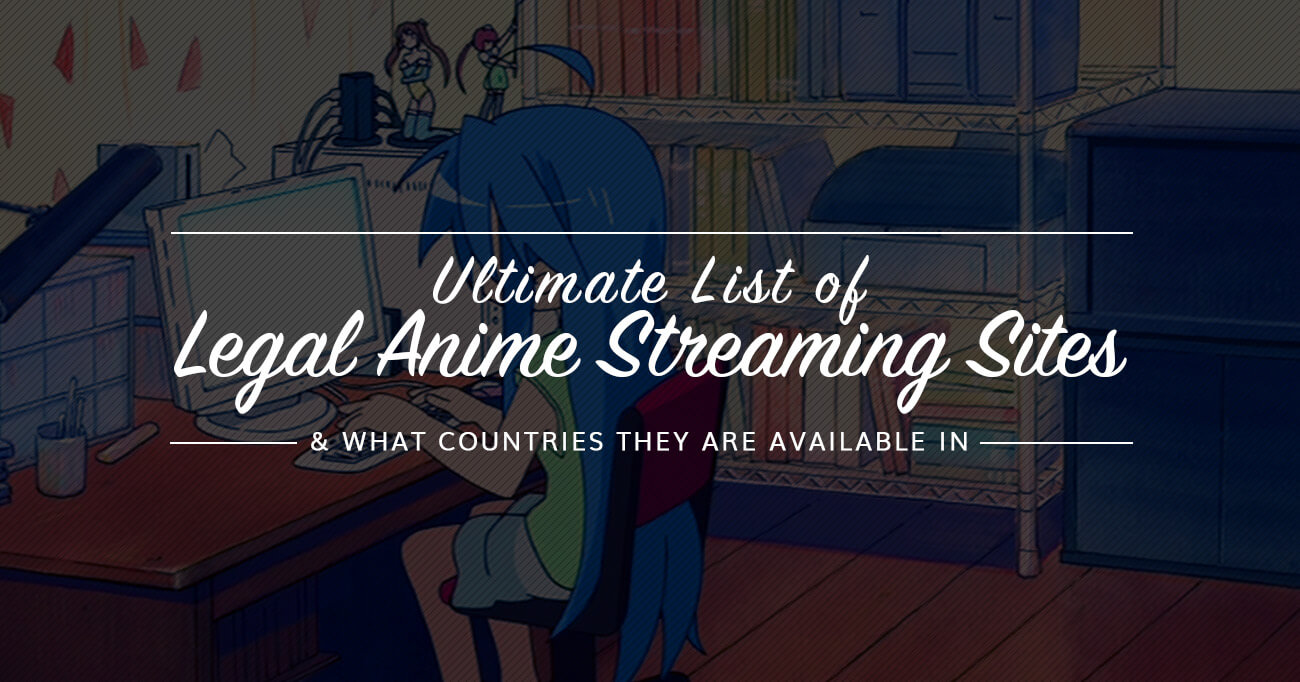 Here it is. The One List to Rule Them All. I took the time to scour the internet and create a detailed list of the latest 100% Legal Anime Streaming Sites available. I have also included what countries they are available, how much they cost per month, and approximately how many titles they offer. I shall try to keep this list up-to-date and add/subtract sites as needed.
Need a list of just Free (Legal) Websites To Watch And Stream Anime? We've got you covered!
Last Updated: August 22nd, 2020 – Updated information on pricing and added a few more options!
Use the links below to quickly navigate to each site's information.
Adult Swim
All4
Amazon Video
Visit the Amazon Video Website
Cost: $99 USD per year (Approx. $8.25 USD per month)
Regions Available: United States, Canada, Italy, Spain, The Netherlands, United Kingdom, Japan, Austria, Belgium, Germany and soon India
Anime Digital Network (ADN)
Visit the ADN Website
Cost: 6.99€ per month (streaming) / 14.99€ per month (download) / 24.99€ per month (DVD/Blu-ray)
Regions Available: France, Luxembourg, & Belgium
Anime Lab
Anime on Demand
Anime-Planet
Visit the Anime-Planet Website
Cost: FREE // Bonus: Watching on AP auto-updates your AP Anime Watch List
Anime Titles Available: Partnership with Crunchyroll, HIDIVE, & Hulu
Regions Available: Globally (Availability of Shows Depends on Country)
Aniplus Asia
Asian Crush
ConTV
Coolmic (Uncensored Hentai/Smut/BL)
Crunchyroll
FAKKU! (Hentai)
Funimation
Gundam.Info
HBO Max
Visit the HBO Max Website
Cost: $14.99 per month
Regions Available: United States (coming soon 2021: Latin America and the parts of Europe, such as Spain and the Nordics)
HIDIVE
Visit the HIDIVE Website
Cost: $4.99 per month / $47.88 per year
Regions Available: United States, Canada, Ireland, Australia, United Kingdom, South Africa, Spain, Portugal, Latin America, Scandinavia, The Netherlands, Germany, and France
Hulu
iflix
Visit the iflix Website
Cost: RM10 per month / RM96 a year (RM8 per month)
Regions Available: Malaysia, the Philippines, Thailand, Indonesia, Pakistan, and Sri Lanka
iQiyi International
Joyn (Previously maxdome)
Mangas
Midnight Pulp
Netflix
Netzkino
NicoNico
Pokemon.com
ProSieben Maxx
Retro Crush
Screen Anime
TOKU!
Tubi TV
Wakanim
Visit the Wakanim
Cost: FREE / 5€ per month
Regions Available: in the most parts of the French-speaking world, which includes: Metropolitan France, DOM TOM, Benelux, Switzerland, Francophone African territories (Tunisia, Morocco, Algeria), Canada (Quebec), Sweden, Norway, Iceland, Finland, Denmark, Germany, Switzerland, Austria, Albania, Armenia, Azerbaijan, Belarus, Bosnia, Herzegovina, Bulgaria, Croatia, Cyprus, Czech Republic, Georgia, Hungary, Latvia, Lithuania
WatchBox (Part of TVNow)
VIZ Media
VRV
Visit the VRV Website
Cost: FREE / $9.99 per month (Ad-Free)
Anime Titles Available: HIDIVE & Crunchyroll catalog
Regions Available: United States
VVVVID
YouTube
Official YouTube Channels That Have Free Anime Episodes:
There you have it! Did we miss any? Let us know in the comments below! As mentioned, Yatta-Tachi will be doing our best to keep this list up-to-date with the latest available Legal Anime Streaming Sites.