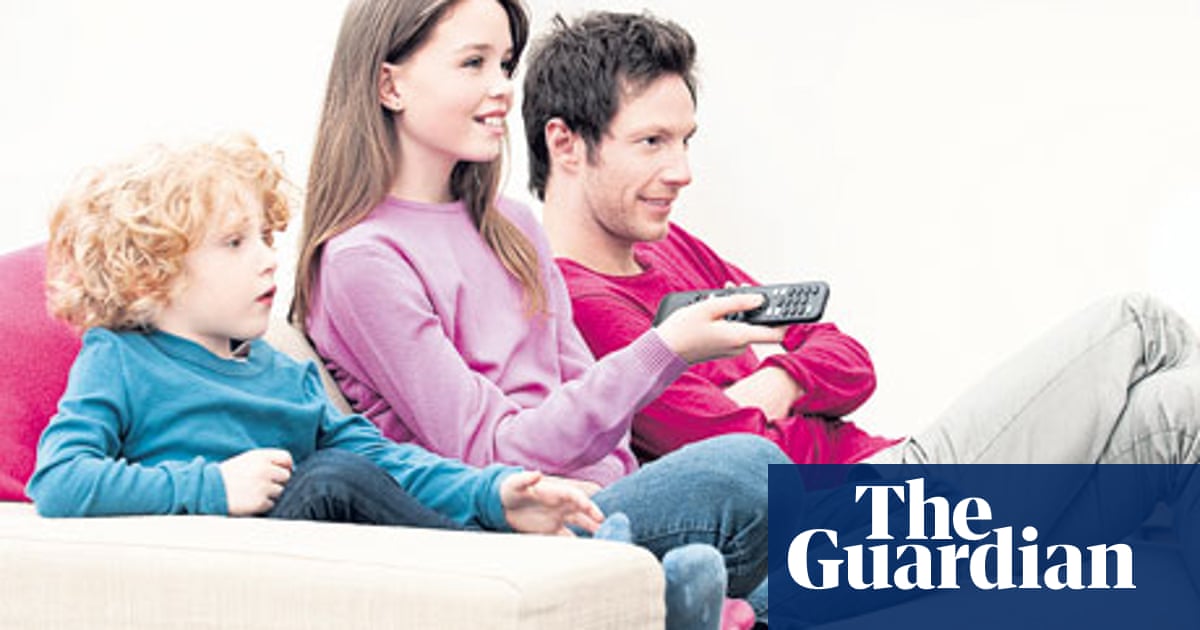 The local DVD rental store has closed down. Music shops that sell DVDs are closing down. Your kids illegally download music and other stuff, but you're not comfortable with that. Is the answer to watch by streaming the film through your computer on to your television, legally, for a price of around £2-£4, or buy it as a download for around £10?
According to the British Video Association, the market for legal downloads of films more than doubled from £35m to £78m in 2010, while rental-style digital services grew in value by £5m to £205m last year
The film industry's hope is that the growing number of legal sites offering affordable (and even free) downloading and streaming of movies will mean consumers will abandon dodgy filesharing sources, which still account for the vast majority of downloads.
"While there are many websites that allow consumers to download and stream films illegally, the internet is full of cheap (and free) legal film and TV if you just know where to look," says a spokesperson for the Industry Trust for Intellectual Property Awareness, the body set up to tackle film and television copyright infringement in the UK.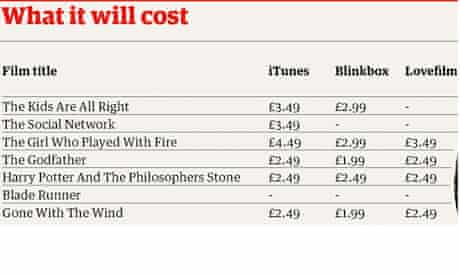 Movie download price table
Where do you start?
Findanyfilm.com lists 33,000 films, and where you can find them as an online download, on sale on DVD, in the cinema or on TV. It alerts you, where possible, to the cheapest source and links you directly to it. Created by the (recently defunct) UK Film Council, Findanyfilm.com works with the Industry Trust and across the industry, to promote legally available films.
You'll find that, once films finish their cinema runs – or TV shows come to an end – some become simultaneously available in all formats: DVD purchase and rental as well as on online download. Others, however, come out first on DVD and only become available to stream or download later, as is currently the case with the Danish cult TV series The Killing – it all depends on individual contract negotiations, according to the Industry Trust.
How to stay legal
Blinkbox.com is the UK's largest movie-streaming website with over 8,000 films and TV shows.
Titles can be bought or rented with some available on an ad-supported, free-to-view basis. Prices start at 39p for the rental of a TV episode and £1.89 for movies, which can be streamed directly from Blinkbox on to Mac, PC, PS3 and through Samsung internet-connected TVs. Each rental movie or TV episode is available for 30 days and, once you start watching it, can be viewed as many times as you like for 24 hours.
Buy-your-own content costing from 99p per TV episode, and £2.99 per movie, can be streamed on an unlimited basis directly to any Mac, PC or PS3 so long as the user is logged in to their Blinkbox account on which all their buy-to-own content is stored in a virtual library.
Lovefilm.com, owned by Amazon, is the UK's leading DVD, Blu-ray and games subscription service, with nearly 6,000 titles available for instant streaming on PC, internet-enabled TV and PS3. Certain advert-supported films can be watched at Lovefilm for free, by members and non-members, while there is more choice for paying subscribers, including pay-per-view where, for example, a more recent release such as The Town costs £3.49, while The Matrix is £2.49.
iTunes.com will sell or rent videos, although on our price test it came out more expensive than others, and, of course, you have to sign up for an iTunes account. The advantage it has is size – the number of movies available to stream is huge. Movies can be played over Mac or PC, iPad and iPhone. You have 30 days from the time of rental to watch your movie, and 48 hours after you've started viewing to finish it. Once the rental period expires, the movie will disappear from your iTunes library.
Indiemoviesonline.com is a video-on-demand site offering hundreds of free movies, documentaries and short films to watch online, funded by advertising. It is committed to supporting independent film and filmmakers by legally acquiring new and classic indie movies, and it currently streams these free in the USA, UK, Canada and Australia. You don't even have to register. You won't find the latest blockbusters or classics on this site but, to give you a flavour of its free content, its most popular five films are: The Auteur (2008); This Girl's Life (2003); One Day Like Rain (2007); Baise Moi (2000); Leon the Pig Farmer (1992).
Seesaw.com is an official source of "catch up" TV offered with its partners BBC, 4oD and Demand Five. It offers over 3,500 of ad-supported free TV shows, which can be watched any time and as often as you want. Current free series to stream include, Friday Night Dinner, The Model Agency, The Inbetweeners and Lily Allen: From Riches to Rags. If you want to watch ad-free TV, you can opt for Seesaw's non-stop service which costs £2.99 a month to receive all the website's free content without commercial ads.
The third option allows you to rent whole series or individual episodes of "premium" programmes at, typically £1.19 per episode. Once you have paid, your unwatched rentals are available for 30 days for individual episodes and 90 days for series. Then, from the moment you start watching an episode, you have 48 hours to finish. Top rentals currently include episodes of Spooks, Doctor Who, Hustle, Battlestar Galactica and House, all at £1.19 each.
Crackle.comis another ad-funded site offering free streaming of movies and TV shows. Operating out of the Sony Pictures Entertainment's studio in Los Angeles, its titles change regularly and it offers mainstream content, but the choice is limited. The site's most popular five films are Groundhog Day (1993), The Karate Kid (1984), The Three Stooges Meet Hercules (1962), White Nights (1985) and Close Encounters of the Third Kind (1977).
If you want to download a lot of movies, you'll need an internet service provider that's fast, reliable and won't penalise you for heavy downloading. And you won't be able to burn the download on to a DVD for later viewing.
For viewers who would prefer to watch their downloads on their TV screen, some sites including Blinkbox and Lovefilm provide useful guides on how to hook up your laptop to your TV and which cables you'll need.
The main alternative to this is to sign up to either Virgin Media or BT Vision and watch on a pay-per-view basis.
Virgin Media's Movies on Demand service typically charges £3-£4 for a movie (on top of whatever Virgin Media subscription package you take out) with higher rates for HD.
BT Vision's On Demand service sells films on a pay-as-you-go basis from £2.50, although recent blockbusters are more likely to be around £4, while rentals last 24 hours. You need to be a BT Broadband customer.
To get an idea of how rental prices may vary, we searched prices on iTunes, Blinkbox and Lovefilm to stream a handful of current and classic films. The results can be seen in the accompanying table.