Most channels that used to be only on cable are now available for less money through the Internet streaming services below.
You can watch most of these on your computer or phone with an Internet connection, or on your TV connected to a game box or streaming player like Roku, Chromecast, Amazon Fire TV, or Apple TV.
Some streaming services have a subscription model, while others let you purchase or rent individual movies or shows. Some stream live TV while others let you choose from a library to view any time you want.
Recommended Free Streaming Services
My philosophy is to first try to pay zero dollars for TV, especially if I am watching commercials! Here are some of my favorite free streaming services to check out. Click the services below to expand.
YouTube.com
I personally watch a lot of stuff on YouTube (the original free website, not the pay version). It's a great source of free older TV shows, concerts, documentaries, and quality original content.
For example, I was able to watch a good number of some older full episodes from the Discovery Channel just by searching YouTube. All of the episodes of the vintage sci-fi series, "Space:1999" are on YouTube. For product reviews and "how-to" videos, I turn to YouTube. You never know what you will find.
You can watch it on your TV using Apple TV, most modern Roku devices, Chromecast, or Amazon Fire TV. For more hints on what to find on YouTube, check out this article. I highly recommend YouTube as a source for totally free video! It's my favorite streaming service.
Pluto TV
Pluto TV is one of the best free streaming TV services, offering both an on-demand and a live-TV-like viewing experience. You can watch on their website or on a your streaming device. The movies are older, of course, but they're better quality than what many other free streaming services offer. Since this is free, there are commercials though.
Free movies on Pluto TV
The Network Websites – ABC, CBS, NBC, Fox, CW, PBS
Let's not forget full episodes available free on the major network websites. Be careful to distinguish between "full episodes" and "clips". Also, more and more sites are requiring "cable TV login", which means you have to have cable TV to view some of the shows unfortunately. But, there are still a good number of current shows available for free on the networks' sites (I usually watch the Big Bang Theory that way).
You can find links to free video on the ABC, CBS, NBC, Fox, CW, PBS and much more at my Free Internet Video Links page.
Peacock
Peacock is NBC's online streaming service. It has a free tier with some good NBC shows and movies but with commercials (they claim no more than five minutes of commercials per hour). The premium plan for $4.99/month gives you more content still with commercials. For an additional $5/month, you can get rid of most of the ads.
At "free", the price is right, but the downside is that there is no Roku or Amazon Fire TV app for Peacock at this time (you can watch on your computer, phone, or Android TV). Sign-in is required to watch.
Sony Crackle
Sony Crackle is a source for free (and legal) Hollywood movies and TV shows. The selection is mostly older stuff, more more modern B and C-level stuff, but there are some gems in there. You can watch on your computer from the website, or on your TV; all of the major set-top boxes have a Crackle app built-in. Check it out!
Popcorn Flix
Similar to Sony Crackle, Popcorn Flix offers older movies for free, both on their website and in their Roku app (also available on other platforms).
The Roku Channel
Roku is getting into the media business with The Roku Channel, offering free older movies and TV shows on their website and Roku app. It's not bad and definitely worth checking out.
Vudu Movies on Us
Vudu, formerly a video-rental-only service, now offers a selection of free movies! Navigate to the "Movies on Us" section to find a bunch of movies that are "free with ads". Okay, these aren't recent releases, but you might be able to find an oldie that you like, and there seems to be a better selection than the other free movie sites.
Vudu Movies on Us
This site is not owned by any retailer or manufacturer. This is an independent review site that receives compensation from the retailer or manufacturer (at no extra cost to you) when you purchase through the affiliate links on this site. I personally test and/or research each product or service before endorsing it. As an Amazon Associate, I earn from qualifying purchases.
Live TV Streaming Services
If you want to watch TV in real time, just like you did with cable or satellite TV, but you're not able to use an antenna to get free broadcast TV, check out these streaming services. Click below for more information on any of these services:
Sling TV – Low cost; great if you have an antenna for the major networks
Sling TV is an ideal low-cost solution if you already get the major network stations (CBS, NBC, ABC, etc.) using a broadcast TV antenna, or if you just don't want those channels.
The "orange" plan is geared towards sports fans and families. It is $30/month.
Sling TV Orange channels
The "blue" plan is geared towards news and entertainment. It is also $30/month.
Sling TV Blue channels
Both plans offer 10 hours of DVR included, expandable to 50 for $5/month. Overall, Sling TV is a good deal and many cord-cutters use it. It's available for all of the major set-top boxes and mobile platforms. Click the button below for more information:
Philo TV – Great if you don't watch sports
Philo TV is a great streaming service available for most set-top boxes and mobile devices for those who are not into sports. Since sports channels cost disproportionately more than other channels, this can save you a lot of money!
Cost is $20 per month for 63 channels, which is a great deal. Includes unlimited DVR to save shows for up to 30 days. There is a 7-day free trial.  See channels below.
Philo TV Channels
Bottom line, if you don't need sports channels, Philo might be a good choice for you!
CBS All Access (becoming Paramount+) – Great if you can't get CBS with an antenna or want Star Trek
You can watch CBS shows live and on-demand with CBS All Access for $5.99/month with limited commercials or $9.99/month for no commercials. This could be useful if you can't get free broadcast TV. There are some shows, like "Star Trek: Discovery", and "Star Trek: Picard" which you can only watch on CBS All Access and not on broadcast though.
CBS All Access also recently added some Viacom channels including MTV, Smithsonian, Nickelodeon, BET, and Comedy Central, so it's no longer a CBS-only streaming service!
Locast – Great if you just want local and network stations
Locast is a great low-cost streaming TV solution if you just want basic network and local channels, and you're not able to pick them up using an antenna. Technically, there is a free Locast service, but it's basically unwatchable due to interruptions every 15 minutes. Locast is a nonprofit that relies on donations. The lowest donation tier that will give you watchable TV costs $5/month. As with all of these services, you need an Internet connection to watch Locast.
You can watch Locast on their website or using their Roku app.
Fubo TV – Expensive; but good for sports
Fubo TV started in 2015 as a streaming service specializing in soccer channels but they've added mainstream channels to become a legit all-around streaming service. They're still heavy on sports with the recent addition of ESPN.
Starting cost is $59.99 per month for 98 channels and $84.99 for 130 channels, which is in the same league as cable, so you should really think about whether you need all of these channels. If you're into sports, especially soccer, it may be worth it. Otherwise, I'd recommend one of the slimmer services.
Fubo TV channels
Hulu with Live TV – Network and cable channels plus Hulu originals
Hulu with Live TV is the traditional Hulu streaming service plus a selection of over 50 live TV channels including the major networks and cable channels  It's only available in "select markets", which probably means major cities but not rural areas.  Cost is expensive at $64.99 per month but may be OK if you need sports and the networks. 50 hours of cloud DVR storage is included. There is a one week free trial period.
Hulu with Live TV
You also get Hulu's inventory of streaming TV shows like "The Handmaid's Tale" and movies. This was a good deal, but with the cost increase, it starting to smell more and more like cable TV.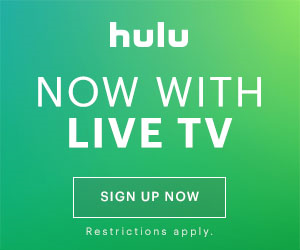 YouTube TV – Expensive; but might be OK if you need live sports
YouTube TV offers live streaming TV of the major networks plus some cable channels like AMC, along with DVR capabilities at additional cost. The base cost has increased significantly to $64.99/month which is approaching the cost of cable TV. But, if you love live sports, you might want to consider this. Otherwise, there are cheaper options.  There is a one-month free trial.
YouTube TV Channels
YouTube TV is available throughout the U.S.
My Recommendation
With so many choices, which one is the best? Well, the decision depends on which channels you want to get. But I would say, if you are able to get the major network stations (ABC, CBS, etc.) using an antenna, I would go with Sling TV because it's the cheapest, although it has a somewhat minimalist set of channels.
If you are not able to get the networks using an antenna, I would go with Hulu with Live TV or Locast.
YouTubeTV offers a ton of channels, but the cost is almost as expensive as cable TV! I would steer clear unless you really need those channels.
Note, cnet.com has created a handy chart showing what channel each of these services offer if you are looking for a particular channel. Or check out this tool from Suppose.TV that shows you the best streaming services based on which channels you want.
On-Demand Subscription Services
These are not live-streaming services like cable or broadcast TV. Rather, these have libraries of videos that you can watch any time as a subscriber. These have monthly fees but you can cancel any time.
Netflix: Good for Original Content and Movies
Netflix offers a great selection of movies and hit TV shows like "Stranger Things". Unlimited streamed programming starts at $8.99 per month for SD quality and $13.99 for HD on two screens at the same time and $17.99 for Ultra HD and four screens at the same time.
Netflix works on a wide variety of devices including your computer, Roku, and Apple TV, as well as the PS3, Wii, and XBox game consoles. Some DVD players and smart TVs can also stream Netflix. You can try it free for a month to see if it's right for you!
To save cost, I sometimes subscribe for a month or two, watch all of the good stuff, then cancel.
Hulu: Good for TV Shows, Movies
Hulu (the regular non-live TV version) is a very popular streaming service featuring a catalog of TV shows and movies for $5.99 per month with limited commercials and $11.99 per month with no commercials.
Hulu is increasingly investing in original programming like "The Handmade's Tale". I also enjoyed the story of one-time James Bond actor George Lazenby in "Becoming Bond". They have a one-month free trial so there's nothing to lose to try it.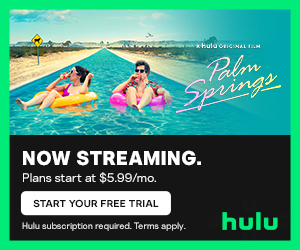 Disney+: Great for Disney classics, Pixar, Marvel, and Star Wars
If you're a fan of Disney, Pixar, Marvel, or Star Wars, the Disney+ streaming service is a no-brainer, at least until you've watched all of the movies from these studios on your list. It also offers all seasons of The Simpsons and Muppets Content. For a Star Wars fan, "The Mandalorian" series is a must-watch.
Disney Plus
Disney+ only $6.99 per month, an amazing price point compared to the competition. If you want to throw in Hulu and ESPN+, the price is $12.99, also a bargain.
Of course, Disney+ is available on all of the major streaming devices (except for older Apple TVs). Unfortunately, the free trial for Disney+ went away when Hamilton came out.
Amazon Prime: Original Series and Movies
Amazon Prime is extremely popular for giving you free 2-day shipping on Amazon, but it also gives you access to thousands of movies and TV shows on Amazon. Cost is $12.99/month or $119/year. If you're a student, you can be a member for $59 per year or $6.49 per month, a good deal! Standout original Amazon TV series include "The Marvelous Mrs. Maisel", "The Man in the High Castle", and "Tom Clancy's Jack Ryan". There are also some moves, but they tend to be older ones than you'd find on Netflix.
It's a good deal if you use what it has to offer. Many people I know swear by this service. And good news for Apple fans, Amazon Prime is coming to Apple TV.
Starz: Lower Cost, Good for Movies
Starz is a good value at $8.99 per month. They offer a seven-day free trial. Starz is owned by Lionsgate films but offers movies by other major studios as well.
SHOWTIME: Movies and Original Series
SHOWTIME for Roku and other streaming boxes is $11 per month, also a great deal if you are into movies! They have an amazing 30-day free trial; enough to watch a ton of movies for free. The Showtime app is available on many mobile and streaming devices.
HBO Max: Movies on the Same Day as Theatrical Release
HBO Max is making waves by offering Wonder Woman '84 and all of the 2021 Warner Bros. movies on the same day as theatrically release, at no additional cost! You can now watch HBO Max on all of the standard streaming devices, including Roku for $14.99 per month. There is no free trial, but that's not a big surprise given the number of new movies coming.
Apple TV+: Not Much Content Yet
Apple jumped into the streaming service wars with its Apple TV+ streaming service for just $4.99 per month after 7-day free trial. It features only original programming.
Since this is such a new service, it doesn't have a ton of content yet: fewer than a dozen TV series. None of these has generated huge buzz so far except for Tom Hanks' Greyhound. If you're curious about any of them, check out the free trial, otherwise hold off.
My Recommendation
Of couse, if you subscribed to a more than few of these services all the time, your costs would start to approach that of cable TV. Instead, I recommend subscribing for only short periods of time to watch specific shows. When you're done, cancel your subscription and try a different service. All have free trials so you can save some money, at least initialliy, by rotating through all of the services (and there many!)
I personally never subscribe to more than one service at a time, and I cancel when I'm done watching the show I wanted to watch on that service.
Video Rental/Purchase – No Subscription Fees!
These are online stores where you can rent or purchase moves and TV shows a la carte. There's no subscription fee.
Amazon Prime Video Rental
Amazon Prime Video offers tons of movies and TV shows for rent or purchase as opposed to a subscription. Movies range from 99 cents to $4.99 to rent. I personally use Amazon Video and like being able to occasionally watch paid content without a monthly subscription fee.
Fandango Now
Fandango Now is a video service offering recent movie and TV show purchase or rental, similar to Amazon Instant video. Prices are comparable to Amazon.
Apple iTunes
If you own an Apple device, you know about iTunes. TV shows are $2.99 to buy and movies are $4.99 to rent. This is about a dollar more than other services like Amazon. Selection of recent movies and shows is pretty good. You can watch them using your Apple TV, iPad, iPhone, or computer.
All of these options are good if you only watch movies occasionally and don't want to subscribe to a service.
As you can see, there are tons of streaming services available, both free and paid. If you want to save money but still watch the latest releases, I recommend utilizing the free trials of as many of the paid services as you can, and jumping around to maximize your viewing content while not being permanently subscribed to any of them. – Brian